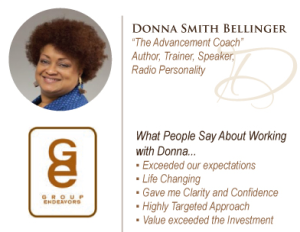 Join me this Saturday, April 27 from 9:00 AM to 10:00 AM ET (8AM CT, 7AM MT, 6AM PT) — I'll be a guest on Donna Smith Bellinger's "c2: Conversations and Collaborations" radio show. Donna, CEO of Group Endeavors, is a business coach and down-to-earth, tell-it-like-it-is sistafriend based in Chicago. I can't wait to be on the show!
If you're an entrepreneur — or you want to be — join us for an enlightening and interactive discussion.  Call in live with your questions! I'll answer small business marketing questions and do mini intuitive readings live on the air.
To listen live, tune in to www.GMAP1.com and Call-In to:267-507-0240 access code 538661.