I'm super excited to be featured in the current issue of Happiness + Wellbeing magazine, where I'm interviewed by my friend and client Brittney Hiller. In this fun 23-minute video, we dish about my pregnancy-predicting fish dreams, what happened that time a guy's dead grandfather's spirit showed up while we were on a date (!), weed-smoking guardian angels, and more. Check it out: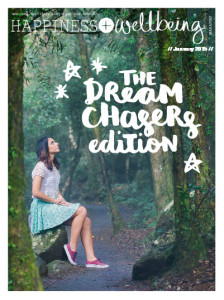 Happiness + Wellbeing is a very cool publication, and the January issue is 107 pages chock full of journey-affirming articles on mind-body-spirit issues. It's a good read!
Also check out all the neat stuff Brittney the yogini is doing at www.brittneyhilleryoga.com.